Medical Tuesday Blog
TROLLING ON THE EDGE
May
16
Written by: Del Meyer
05/16/2019 9:28 PM
By Jeanne Duncan
We recently went on a vacation to Mendocino with my wife Linda's brothers and their wives. It was a long time since her brother from Dexter, Michigan and the other from Tampa, Florida had both visited Linda in our home. Of course they were interested in the wine country tours. So while in Mendocino we toured the Anderson Valley wineries with a Wine Country guide that took us to some small wineries which had excellent wines. Both brothers and Linda are wine connoisseurs. Linda received her experience in Davis where she was the host from Discoveries for Chancellor Emil Mraks official dinners.
In Mendocino we saw the Port of Noyo near Ft Bragg. This reminded me of the Author, Jeanne Duncan, who was a patient of mine some 15 years ago. She left a copy of her book as she moved back to Ft Bragg. I found her volume in my library and am reviewing it again in memory of our vacation to the Northern California coast and in memory of her kindness and autographed book.
Trolling on the Edge is a non-fiction story of a NOYO fisherman.  This is an account of the life of a small boat fisherman trolling for salmon and albacore out of the little Port of Noyo on the Mendocino coast of California.  Duncan states in the Foreword that this book was a spare time project, sparked by her desire to understand why someone who could do any other type of work would choose this uncertain and dangerous life.
Duncan's brother Patrick was a member of this small band of commercial fishermen—more cult than profession—so she began to ask him questions and make notes for this book over 25 years. There were a few hundred boats at Noyo and the skippers and fishermen from each of them would have similar stories to tell. Pat is the narrator of this book.
The small wooden boats at Noyo and at other ports from Half Moon Bay to Astoria were the mainstay of the U. S. fishing industry in the 1960's. At that time 55 percent of the fish caught in the U. S. was caught on the west coast. The growth of the frozen food industry in the mid-sixties brought higher demand and larger, steel boats. The diminished role of the small boats now is to supply premium fresh fish to local markets and discriminating restaurants. They can continue only because they can fish economically where fish stocks would not support operating larger boats.
On every coast of every continent throughout the world are similar small boats. These colorful little boats are significant in the art, but not the literature, of every country with a coastline. You see paintings featuring the boats, but very little is written about the fishermen who survive with them. Duncan states her book is the story of just one of these fishermen but hopes it will give the reader a glimpse of why this life has such a strong appeal for him, as he describes his experiences at sea. This book tells you about the differences between small boats for the east coast and the west; wooden boats vs. steel boats; the intricacies of splitting salmon for lox; details about fishing techniques and to avoid the perils. But it also lets you glimpse the exhilaration of living on the edge that the narrator and his colleagues thrive on.
These fishermen are among the last enduring journeymen in the old sense who earn their daily bread by means of their skill, courage, and a risk they approach on a daily basis. They are David to the ocean's Goliath—and they win most of the time. They lead lives of rare simplicity. Beating the odds every day lets them know they exist in a way most people never feel. The fisherman would never say, "I survive, therefore I am." But his enthusiasm for this hard and dangerous life says it for him. This book reveals there may be a stronger appeal even that that.
Thank you, Jeanne Duncan. I'm sorry that medical record destruction policies prevented my finding your personal history. I hope you are still doing well.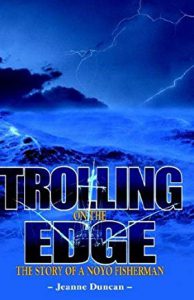 This view is of the Paperback edition (2001) from Trafford Publishing. The Hardcover edition (2001) from Trafford Publishing that you originally viewed is the one you'll receive if you click the Add to Cart button on the left.
Text is available under the Creative Commons Attribution-Share Alike License
DB in Manteca- 5.0 out of 5 stars  READ THIS BOOK, You will not regret it!
This is one that I will keep on my shelf forever. I knew Jeanne and Pat years ago and am not surprised at her ability to produce this work of art. It is a highly credible and wonderful picture of the life of a fisherman on the northwest coast of California. At the same time, it keeps you on edge as the title suggests, at the wild adventures Pat experienced in his fishing career. My kids are reading it as well and it would be an awesome book for book clubs and high school classes to read together. Jeanne, I hope I meet you again to hug you and tell you in person how much I appreciated Trolling on the Edge. Pat, I know you miss it but I can't help but be glad you are on dry ground in beautiful country now. My love to you both!
This book review is posted at http://www.medicaltuesday.net/book-reviews-miscellaneous/
To read more book reviews . . .
To read book reviews topically . . .
Feedback . . .
Subscribe MedicalTuesday . . .
Subscribe HealthPlanUSA . . .
The Book Review Section Is an Insider's View of What Doctors are Reading about.