Medical Tuesday Blog
Susan Maxwell Skinner – Photojournalist and Singer
Jul
7
Written by: Del Meyer
07/07/2018 6:32 AM
Citizen Susan Parade Grand Marshal at the Carmichael Elks Independence Day Parade.
CARMICHAEL, CA (MPG) – After many years of photographing the Carmichael Independence Day Parade, Susan Maxwell Skinner will this year ride in its first division as Grand Marshal. "July 4 has always been my favorite American Holiday," says the New Zealand transplant. "I feel a huge emotional response at celebrations. I'm grateful to the nation that accepted me; I love to share its pride."
Skinner became a US citizen in March of 2017. "At the naturalization ceremony, I was nostalgic surrendering my Green Card," she says. "That bit of plastic was a faithful friend for more than 30 years. When my US passport arrived in the mail, I knew I had had something even more precious in my hand. Millions of people dream and sacrifice for the freedom it promises. Some of the greatest US patriots I know are immigrants."
Married for almost 32 years to the late Sacramento bandleader John Skinner, Skinner is recognized as an enthusiastic Carmichael booster. She led its Chamber of Commerce in 2002; has authored thousands of local stories (many for this newspaper) and produced a photographic book called "Carmichael – Americana on the Move." She was twice voted "Best Photographer" in the Best of Carmichael contest. The photojournalist is also a singer with the John Skinner Band, a long-time anchor ensemble for Carmichael Park concert seasons.
John Skinner's sudden death last August barely slowed his wife's community activities. "I cope with my loss by keeping very, very busy," she explains. "John would not want his beloved music – or my photojournalism – to stop. He supported and encouraged me all the way. This guy was a celebrity in his own right but he was tickled pink that (Elks Parade organizer) Jim Warrick invited me to be Grand Marshal. John was a Vietnam veteran; a horn-blowing patriot to the bone. I expected him to ride beside me. I'll leave his seat empty; I know I feel his presence."
Waving from a classic American Mustang, Grand Marshal Susan will be among about 800 participants in the 60th annual Elks Parade. The pageant is scheduled to leave Marconi and Fair Oaks Boulevard corner assembly areas at 10:30 a.m. next Wednesday. Its crawl along Fair Oaks Boulevard turns into Cypress Avenue, ending at the Elks Lodge (5631 Cypress). Here, free swimming, live music and a barbecue will continue celebrations. Anyone may join the party.
Pyrotechnics will later ignite at the La Sierra Community Center (5325 Engle Road). Admission is free. Food is available for purchase and entertainment starts 7 p.m.; fireworks rumble at 9:30 p.m. No outside fireworks, dogs nor personal barbecues are permitted. Fair Oaks Boulevard will be closed between 10 a.m. and 12:30 p.m. Parade and fireworks sponsorships are welcome.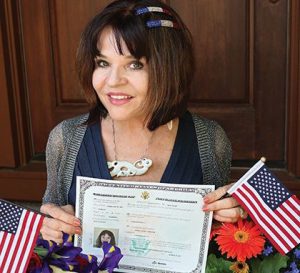 Share this pic with friends!
New Zealand-born Susan Maxwell Skinner proudly displays her 2017 Naturalization papers. The photojournalist and singer will be Grand Marshal for the Carmichael Elks July 4 parade.
 Courtesy photo
For information on 2018 celebrations, call the Carmichael Elks at 916-489-2103. Carmichael Park District (485-5322) has fireworks event information.
Feedback . . .
Subscribe MedicalTuesday . . .
Subscribe HealthPlanUSA . . .