Medical Tuesday Blog
Healthcare's Medical Gluttony
Nov
9
Written by: Del Meyer
11/09/2017 12:45 PM
Dan Munro , Contributor I write about the intersection of healthcare innovation and policy. Opinions expressed by Forbes Contributors are their own.
Seems to me we always have a few big breaking healthcare stories early in the year.  I remember last year when Mary Meeker released her stunning report – USA, Inc.  
For the first time, it gave us a detailed view into the health of our country – as if it were a Corporation using balance sheet accounting.  That report is truly outstanding.  If you haven't read it – I can't recommend it highly enough.  In some ways I think it's "table stakes" for any intelligent discussion around the health (and healthcare) of our Country. In that report are two charts that graphically illustrate the size of our healthcare spending (as reported through 2009) – and then the results of our healthcare system.  This was the first one: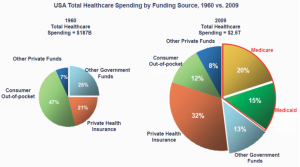 From Mary Meeker's Report – USA, Inc.
Lot's of takeaways from this.  Including the sheer size ($2.5 trillion in 2009) – and at least one financial opinion that we don't have a debt problem in this country – we have a healthcare problem.   In this graph, Mary Meeker's focus was more on the hyper-growth of Medicare/Medicaid – which basically went from 0% to 35% in about 45 years.  It doesn't take a proverbial Village to see this chart that provides statistic that show our healthcare is unsustainable.  The companion chart was one that compared our healthcare results (as measured by Life Expectancy) to other countries using per capita cost per year.  This too was eye-popping:
For those of us that have been tracking the statistics over the years – no real surprises – these numbers don't just arrive in a year.  It takes a sustained effort to deliver this kind of appalling value – for this kind of money. Shocking? Clearly. Surprising?  Not so much.   No, the real, perhaps only question is – what's causing this – and how do we really stop it? Of course this debate has raged for years – and is still ongoing. Lots of good politicking, teeth gnashing, jaw boning, turf protecting and food fighting. Hey – there's lots of blame to pass around.
Recommended by Forbes
Feedback . . .
Subscribe MedicalTuesday . . .
Subscribe HealthPlanUSA . . .
Medical Gluttony thrives in Government and Health Insurance Programs.
It Disappears with Appropriate Deductibles and Co-payments on Every Service.