Medical Tuesday Blog
Dismembering A Viable Fetus In Utero Is Akin To Saudi Dismembering A Reporter
Feb
19
Written by: Del Meyer
02/19/2019 8:11 AM
California Taxpayers Have Been Forced to Spend $700 Million to Kill Almost 1 Million Babies in Abortions
State   Micaiah Bilger | Dec 21, 2018 | Sacramento, CA
https://www.lifenews.com/2018/12/21/california-taxpayers-have-been-forced-to-spend-700-million-to-kill-almost-1-million-babies-in-abortions/
Whether they like it or not,
California taxpayers pay for women's elective abortions.
This may include paying for underage girls to get abortions without their parents' knowledge or consent, for abortions on viable, later-term unborn babies and even for sex-selection abortions, none of which are prohibited in California.
The total price-tag for those abortions is almost $700 million, according to Live Action.
Medi-Cal, the state medical assistance program for low-income individuals, pays for women and girls to abort their unborn babies. Sixteen other states force taxpayers to pay for elective abortions as well.
An analysis of the program spending found that California taxpayers paid more than $358 million for 840,000 unborn babies to be aborted between 2000 and 2014 alone. It estimated the total spending on abortion at nearly $700 million in the past 25 years.
The state government reports do not give many details about the abortions or the ages of the unborn babies, but they do list the types of abortion procedures paid for by state taxpayers. Among these are D&E abortions, which involve dismembering second-trimester unborn babies by tearing them limb from limb while their hearts still are beating. D&E abortions are done up to 24 weeks, meaning potentially viable, healthy unborn babies are aborted at taxpayers' expense in California.
About 80,000 D&E abortions were paid for by taxpayers between 2003 and 2014, according to the analysis.
REACH PRO-LIFE PEOPLE WORLDWIDE! Advertise with LifeNews to reach hundreds of thousands of pro-life readers every week. Contact us today.
It is not clear how many unborn babies are aborted in California each year because the state does not report its abortion numbers to the Centers for Disease Control. The Guttmacher Institute, a pro-abortion research group, reported 157,350 abortions in 2014 in California.
California has some of the most radically pro-abortion laws in the world, but state lawmakers are pushing for more. Earlier this month, state Sen. Connie Leyva introduced a bill to mandate that all public colleges and universities provide free abortions to students on campus.
Abortion activists also have been pushing for taxpayer-funded abortions nation-wide. At the federal level, the Hyde Amendment prohibits federal Medicaid funding for abortions except in the cases of rape, incest or risks to the life of the mother. However, some states choose to fund elective abortions and others do so as a result of court orders.
These are the 16 states that force taxpayers to fund elective abortions:
Alaska (court order)
Arizona (court order)
California (court order)
Connecticut (court order)
Hawaii (voluntarily)
Illinois (voluntary)
Maryland (voluntarily)
Massachusetts (court order)
Minnesota (court order)
Montana (court order)
New Jersey (court order)
New Mexico (court order)
New York (voluntarily)
Oregon (court order)
Vermont (court order)
Washington (voluntarily)
West Virginia also was on the list, due to a state Supreme Court order. In November, however, voters approved a constitutional amendment that makes it clear that their state does not recognize abortion as a "right" or require taxpayer funding of abortions.
Polls consistently show that most Americans do not want their tax dollars to pay for abortions. A Marist poll found that two-thirds of Americans oppose taxpayer funding of abortions, including a majority of women and people who identify as pro-choice. In 2016, a Politico/Harvard University poll also found that just 36 percent of likely voters supported taxpayer funding for abortions, while 58 percent opposed it.
Read the entire report and view the ultrasound . . .
To see a live baby still a fetus about to be born, go to https://california-prolife.networkforgood.com/ What doctor could cut up or dismember such a beautiful baby to allow it to be pulled out of the womb? What kind of mother would allow such a monstrous behavior? Is either the doctor or the mother a civilized human being?? Are we living in an uncivilized society?
http://www.californiaprolife.org/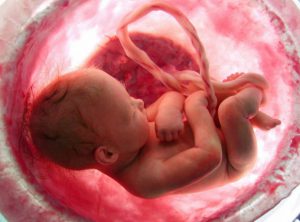 Abortion is just a euphemistic term for killing the pre-born you see above, even if partially born.
If the head is too big to be extracted, the abortionist pushes his suction tube through the soft skull and sucks out the brain to reduce the size of the head!
You may want to re-read the March 2017 MedicalTuesday.net Newsletter.
Feedback . . .
Subscribe MedicalTuesday . . .
Subscribe HealthPlanUSA . . .